Who is Flintriflesmith?

Gary Brumfield, Master Gunsmith,
Colonial Williamsburg Foundation 1973-1990
Link to pictures of the CWF gunsmith shop and some guns made there.
Biographical sketch from the Contemporary Longrifle Association Artisan Project (updated 12/12/11)
Born in 1946, Gary grew up in the mountains just west of Salem, Virginia.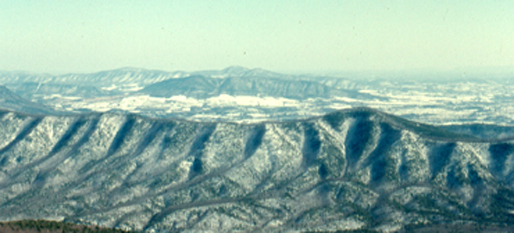 View from MacAfee's Knob, a few miles from Gary's home.
In the 1950s that part of Virginia was still very much part of the rifle culture of the 18th century and Gary began hunting and target shooting before age 10. At that time, he lived across a rural lane from Wallace Gusler. When Wallace's father gave him an original percussion longrifle Gary wanted one too. Gary started hunting with a flintlock in 1959 and killed his first buck with an original .46 caliber flintlock longrifle in 1962.
Gary finished building his first flintlock rifle in about 1962—he had started a percussion half-stock in '58 or '59 but never finished it. That first rifle was for a customer. His second rifle (shown below) was relief carved in the style of the J. Hoak rifle pictured in Thoughts on the Kentucky Rifle in its Golden Age [1960] and had a shop made lock that was largely sawn from steel by hand. The stock architecture was inspired by 19th century eastern PA rifles and the patch box was based on "Kettering, Allison and Others" rifles from the Pittsburg/Ohio River area. Talk about an "fantasy rifle" that combined styles from different regions and periods--this was it!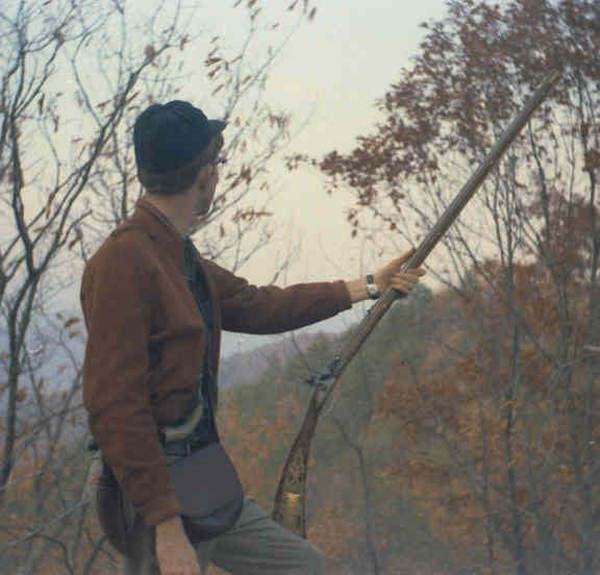 Picture taken on the trail to MacAfee's Knob in the fall of 1964 showing first rifle.
By December 1962, Wallace had moved to Williamsburg and soon opened the Colonial Williamsburg Gunsmith Shop. As a student at Virginia Tech from 1965 to 1969, Gary spent his summers working with Wallace in the shop. In the early years of the shop, the two of them spend a lot of evenings redeveloping the skills and technology of the 18th-century. By the winter of 1967-8 Wallace was able to document the building of a hand-made rifle in the film The Gunsmith of Williamsburg. Gary missed being in the film because it was shot during the winter while he was away at school.
Gary graduated from Va. Tech in March of 1969 and, after working for about six months in the shop, enlisted in the Army. He returned to the shop in the spring of 1972. Late that summer Wallace left the shop and Gary soon became the Master. He worked there building guns, training apprentices and talking to thousands of visitors. He has described working in the shop as "like teaching school except you start over with a new group of students every 15 minutes." Since leaving the shop in 1990, he has been working in administration for Colonial Williamsburg and has built very few rifles. When he retires in a few years, Gary expects to become an active builder again.
What educational activities has he participated in…
Instructor and/or Coordinator for NMLRA Gunsmithing Seminar, Western Kentucky University, 1983-2011

Writer and editor for the Journal of Historical Armsmaking Technology, 1985-1993

Member or Chairman of the NMLRA Publications Committee, 1985-2010
Writer of several articles for Muzzle Blasts, 1985-present
Guest speaker, various conferences, titles include: Craftsmanship in Metal: the Colonial Artisan and His Work; Why Limit Yourself to Traditional Design and Technology; Surveying and Land Acquisition in Colonial Virginia; Game and Hunting in the 18th Century; Trust, Credit and the Assignment of Values in the Deer Hide Trade, Hunting For Food. 1976-present
What awards and honors has he received…
CLA Education Award, 2000
President, CLA, 2002-2004
NMLRA Service Recognition for the Gunsmithing Seminar, 2006
Distinguished Service award presented at Western Kentucky University by the faculty and students of the NMLRA Seminar, 2009
In what publications has his work appeared…
Following the Tradition: Celebrating the Artisans of the Contemporary Longrifle Association by Gordon Barlow, 2007
Three Centuries of Tradition: The Renaissance of Custom Sporting Arms in America by Wallace Gusler and Mark Silver, 2003
Contemporary Makers of Muzzle Loading Firearms by Robert Weil, 1980
Iron, Solid Wrought/USA, 1976
Virginia Wildlife, September 1973
(top)
---