What has become the NMLRA Gunsmithing Seminar was started in 1981 by Dr. Terry Leeper at Western Kentucky University in Bowling Green. Dr. Leeper saw a local interest in rifle building and a connection to Kentucky frontier history and decided to offer a summer session in which students could work toward building a longrifle.

Terry decided to enrich the class by inviting guest instructors to come for a few days and share their expertise. In that first summer the "guests" included Hershel House from nearby Woodberry, Wallace Gusler from Williamsburg, VA, John Bivins from Winston Salem, NC, and Lynton McKenzie from Tucson, Arizona. The class lasted through most of the summer.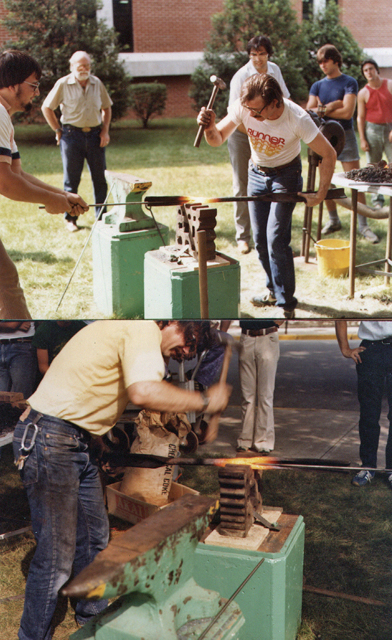 Wallace Gusler demonstrated welding a rifle barrel on the front lawn of the class building during the 1981 class.
In 1982 the format changed and the seminar became an intense one-week session based on a series of lecture demonstrations. All the students took essential the same curriculum.
In 1983 a separate three day session on firearms restoration was added in the week before the six day session. This continued off and on for several years.
About 1985, the courses were divided up into beginner, intermediate, and advanced levels. The courses included stock carving, engraving, lock assembly and metal finishing.
In 1986 a further evolution saw the lecture and demonstration sessions phased out in favor intense week-long courses in which students focused on one subject area for the entire six days. That first year the hands on courses included an advanced carving, advanced engraving, fundamentals of gun stocking and advanced stock shaping.
Due to scheduling problems at Western, the seminar was moved to Northern Kentucky University in 1990. We were there for 91 and 92 as well. In 1993 we moved a few miles down the road to The McCormick Vocational Center but continued to have rooms at NKU.
In 1994 the seminar returned to Western Kentucky -- a much better location in terms of class space and equipment. Dr. Terry Leeper continues to be our host.