HISTORY
A history of the Gunsmith Shop in the Colonial Williamsburg Foundation's Historic Area was presented in the article Williamsburg, Gateway to the Past by James Wright in Volume 1, Number 1 of American Traditions -- the Journal of the Contemporary Longrifle Association in January of 2010. American Traditions is a membership magazine available only to members of the Contemporary Longrifle Association.
American Traditions Article 2010.pdf
The pictures below are from 1973 to 1990 when I was working full time in the shop.
(Scroll down for more pictures from the shop and a link to another article about the shop.)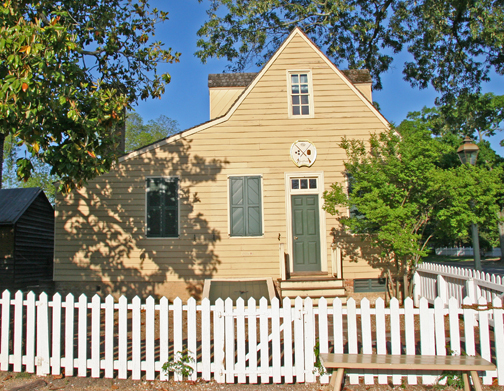 Colonial Williamsburg Foundation Gunsmith Shop was located on Francis Street near the Capitol from 1967 until 2008. In 2008 it was moved to the lot where James Geddy Sr. and two of his son's William and David carried on the trade in the mid-18th century. (In this picture, taken after hours, the windows are shuttered for security.)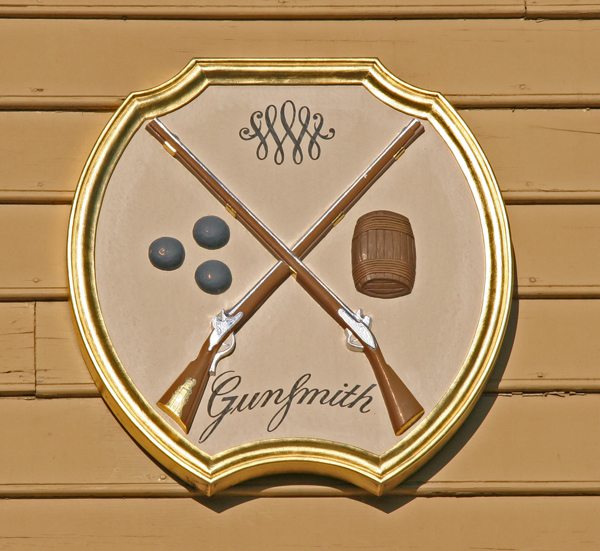 Colonial era signs were often designed so that customers who could not read could still identify the business within. This hand carved wooden sign dates from 1966 and can be seen in the Gunsmith of Williamsburg movie. (top)

Colonial Williamsburg Journal article on the Gunsmith's Shop written in 2000 by Ed Crew.
http://colonialwilliamsburg.org/foundation/journal/Autumn00/gunsmith.cfm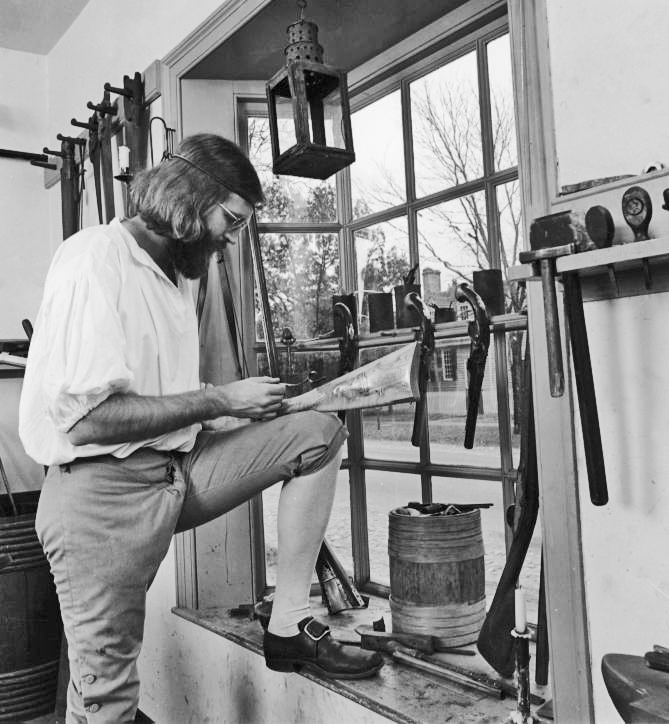 December 1973 (top)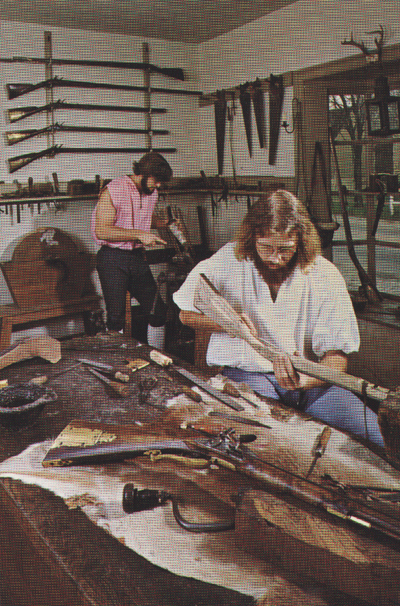 Postcard with Jon Laubach and me, 1973. The rifle in the foreground was made in 1967 and has one of the first hand made barrels. It was welded up a couple of years earlier out of 1020 steel because we had not yet found a good source for wrought iron. (top)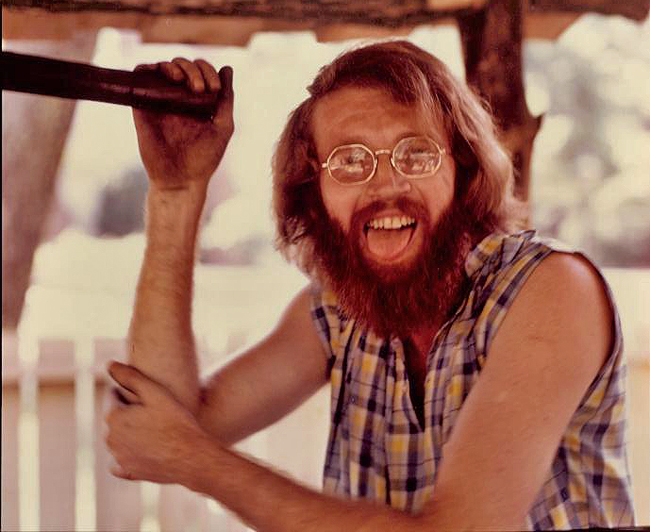 1974--Fun at the forge, welding a rifle barrel--photo by Jay Gaynor. (top)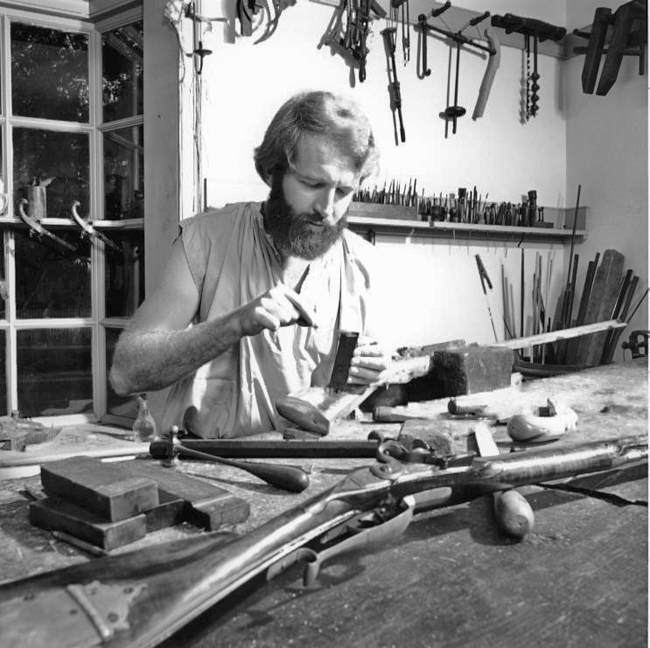 1978 -- The rifle in the foreground is the "movie rifle" made by Wallace Gusler in the Gunsmith of Williamsburg film in 1968. (top)

About 1986-- Four original rifles on the wall; 1973 wood box rifle and a fowler on the bench so guests could handle them. (top)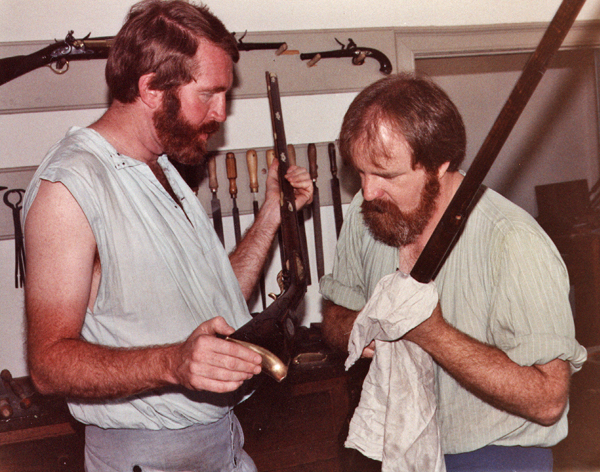 July 1989-- George Suiter and I examine a completed restoration project. (top)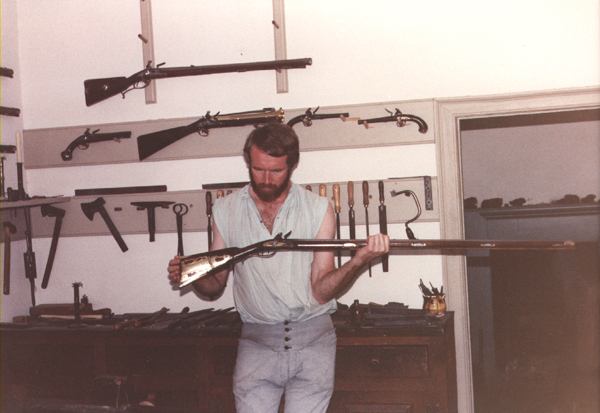 July 1989. (top)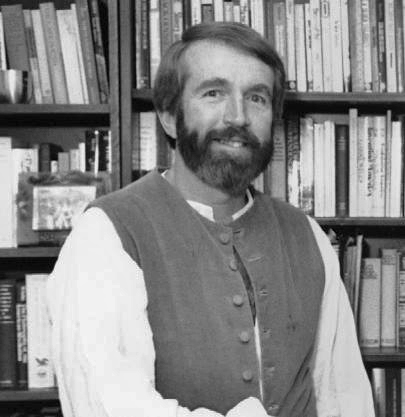 Twenty year anniversary with Colonial Williamsburg--November 1989-- two months before a "temporary" assignment moved me from being the Master Gunsmith to museum administration in interpretive planning. I never returned to the shop.