MORE PHOTOS
Whenever weather permits, the Saturday afternoon of the nine day seminar becomes a time to relax with an informal shoot and picnic where students and instructors share two common interests, shooting and eating, and get to know each other.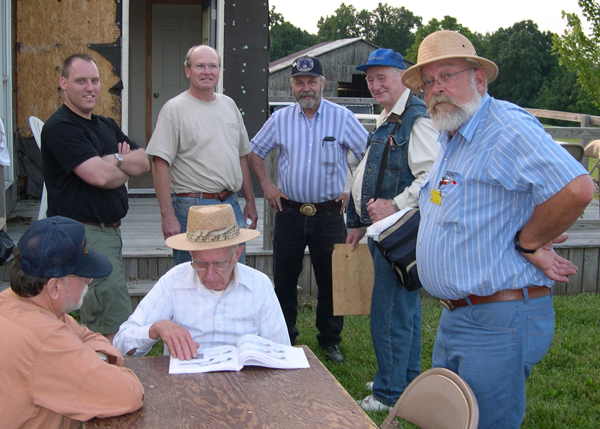 Fred must be looking up something important. It looks like he has six supervisors!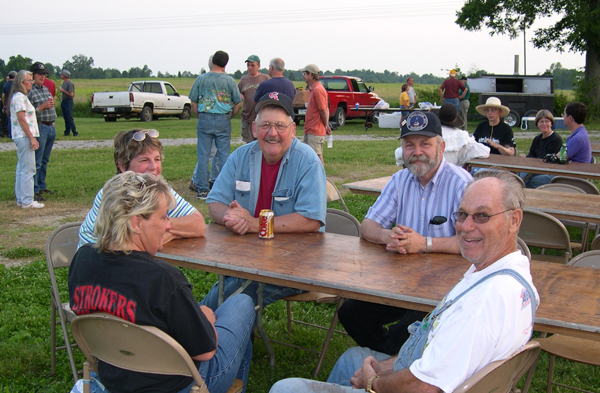 Mr. Smith's, owner of the Scottish Inn where most of us stayed, asked his son to host this picnic on the farm where they deer hunt. The tables and chairs were a big hit, as was John Duvall's cooking! Dave, Bob, and Jack relax with the ladies.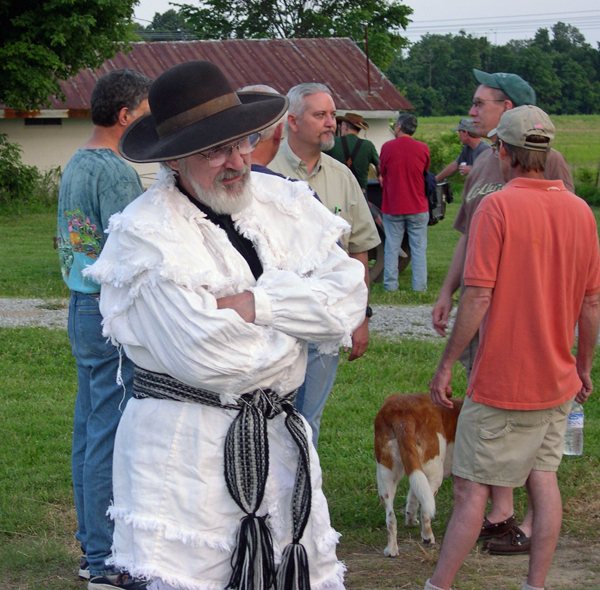 Joe in his fine shirt.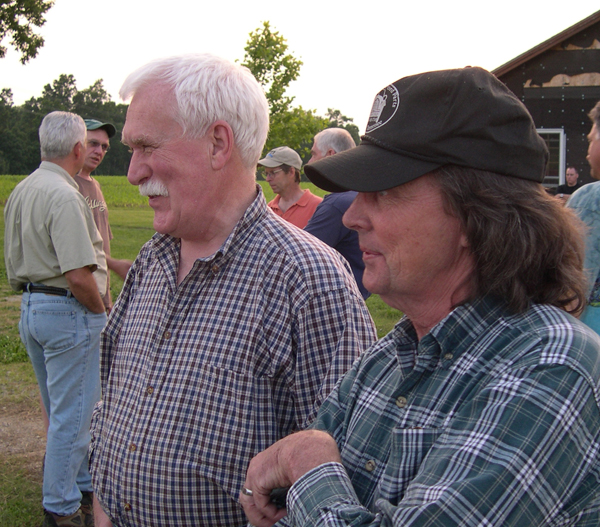 John and Hershel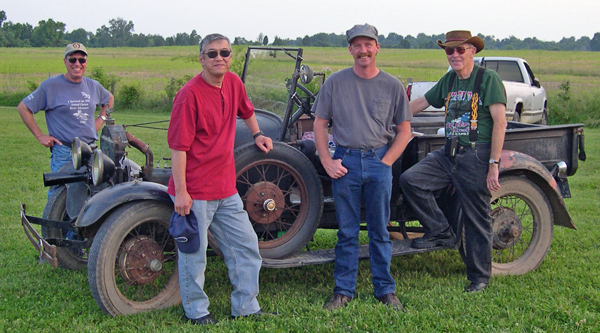 This car was part of the extra attention Hershel and John bring to their class.

Beverly was in Ron's two classes, Vickie was in John and Hershel's class and Eve taught the hunting shirt class.
(top)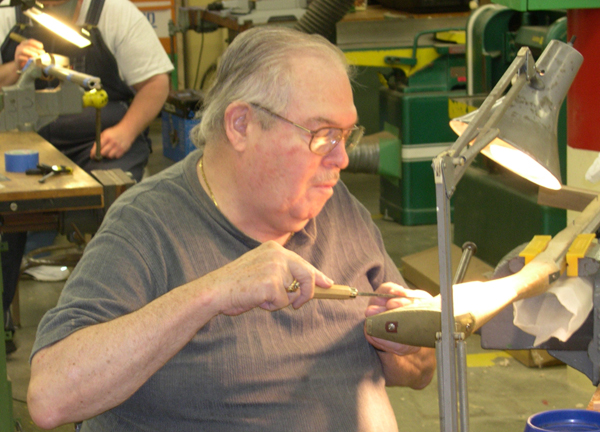 Keith lighting up his carving.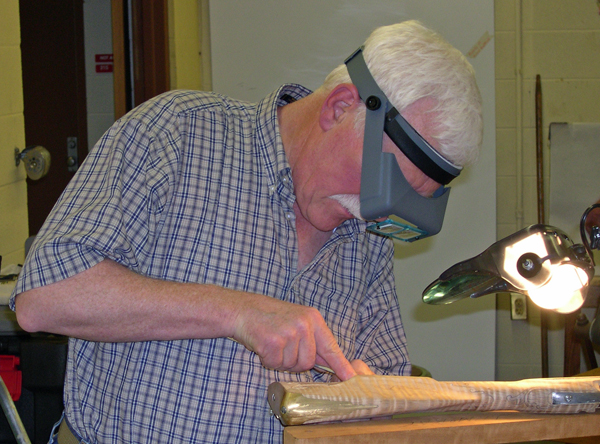 John decided to carve one of the Chambers Virginia rifles. Very curly wood!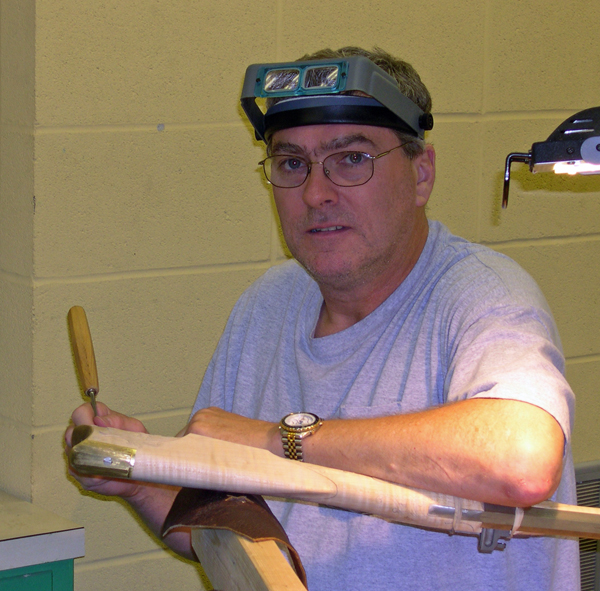 Bob wanted to do the carving on the Bonewitz rifle (number 81 in Kindig's book).

Here it is--almost finished.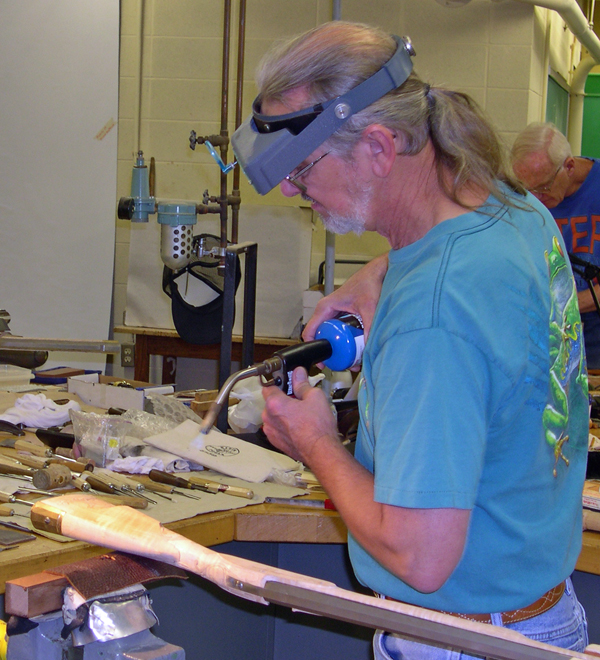 Ed raising the grain after back grounding the relief carving. (top)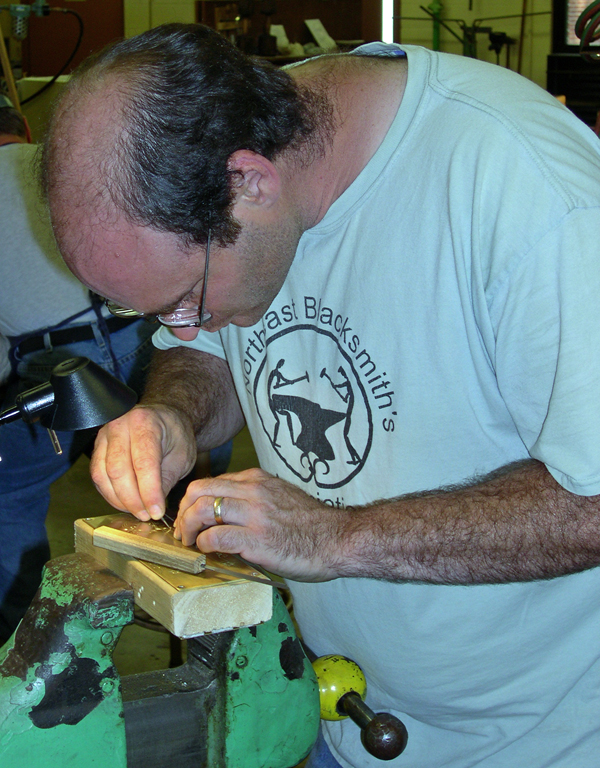 Mitchell proves that a blacksmith can learn to engrave.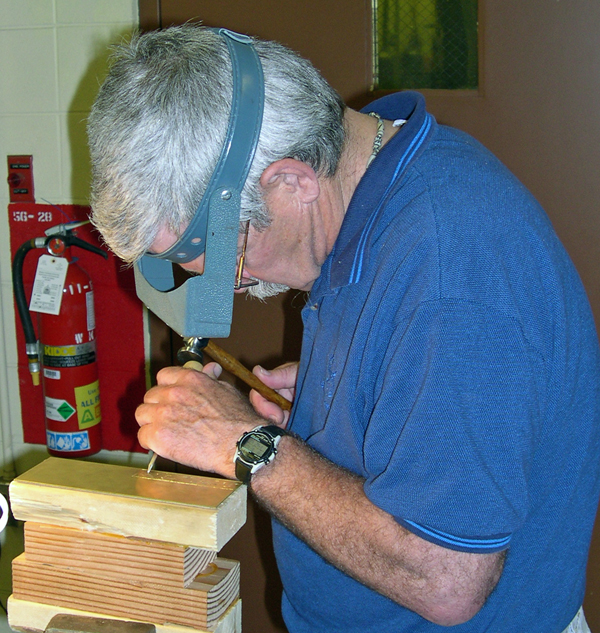 Tony (top)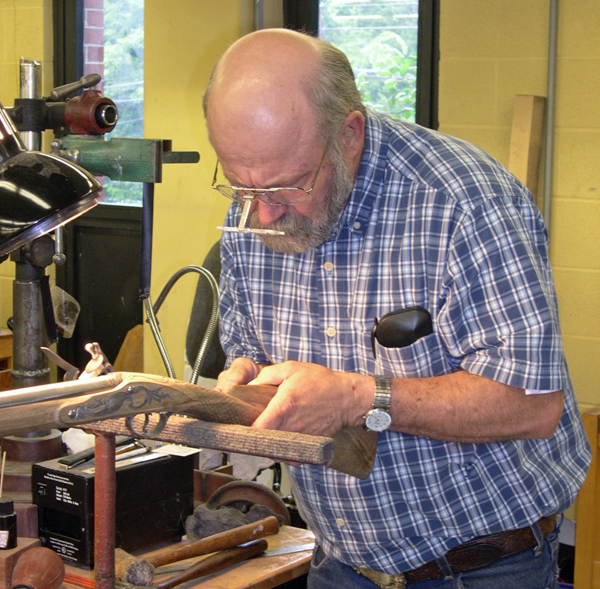 Bob checkering the wrist in the Finish What You Started class.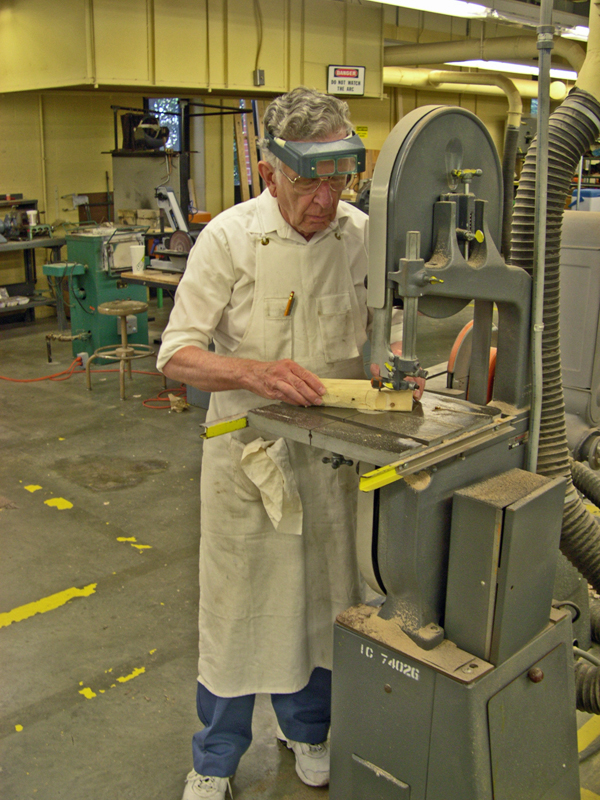 Fred cutting who knows what from scrap wood. (top)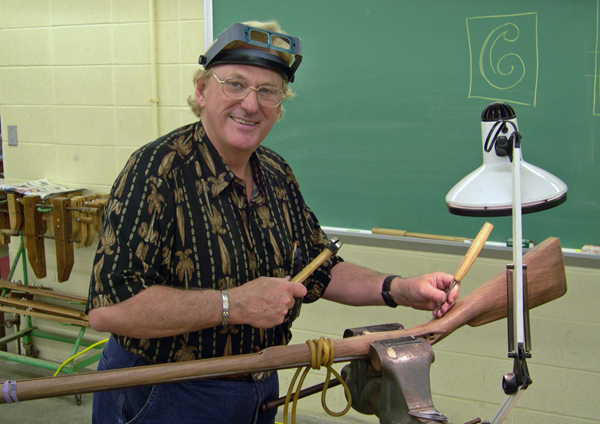 Perry is also finishing what he started.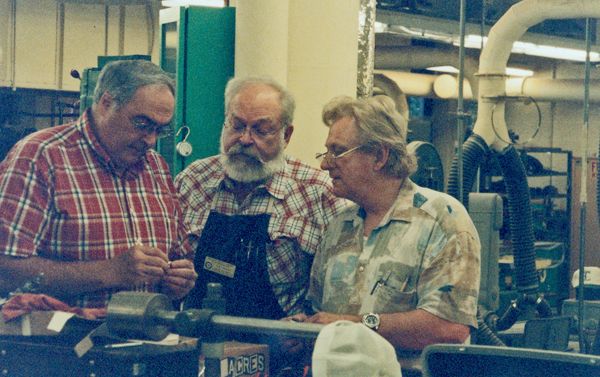 Dr. Terry Leeper stops by Ron's class to visit. (top)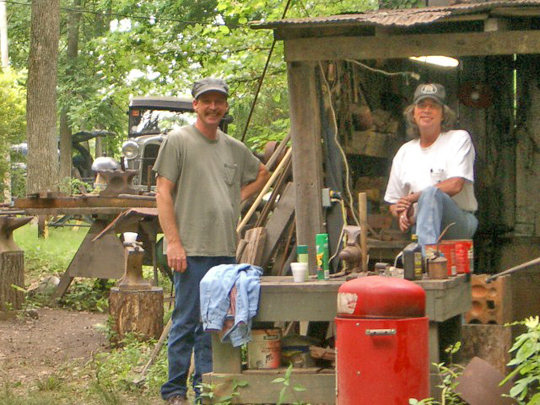 John & Hershel out at the shop in Woodbury [Vickie Swank photo].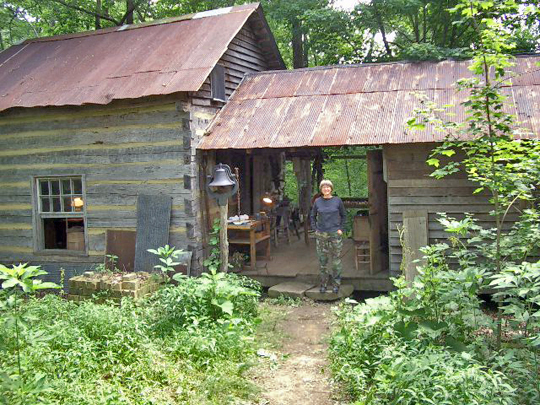 Vickie at Hershel's shop [Vickie Swank photo].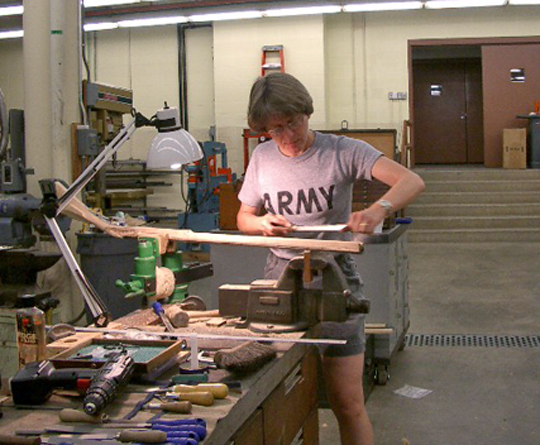 Vickie shaping the fore stock of her iron mounted rifle. [Vickie Swank photo].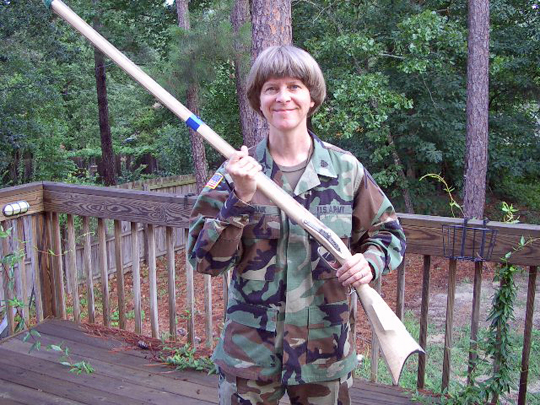 Port Arms, just like with her M-16 [Vickie Swank photo].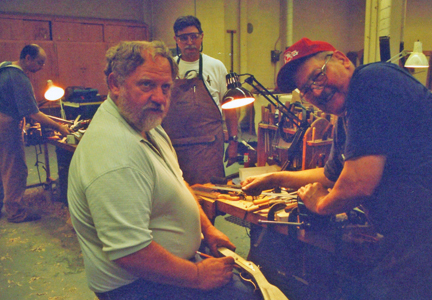 Jack Brooks in the Stocking an Allentown Rifle Class
(Left to right: Brent, Jack, Roy, and Dave)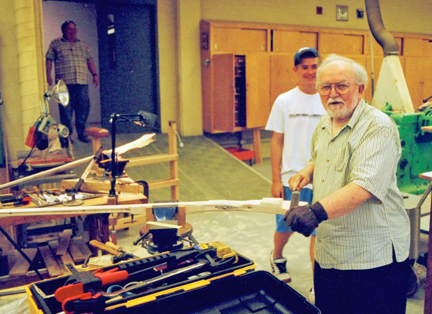 Allentown Rifle -- Robert rasping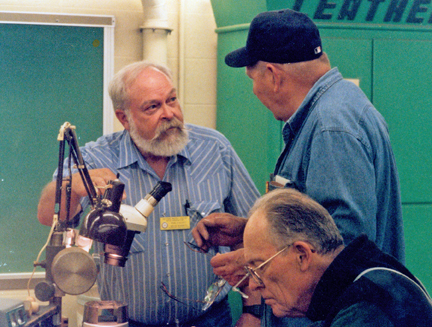 Ron's three day class on relief chiseling steel and brass
(Ron, Dave, & Hollis)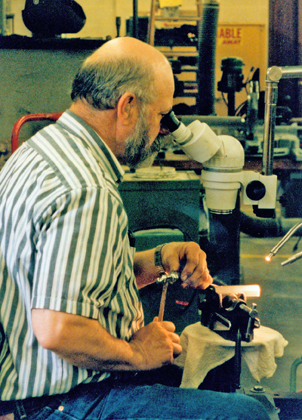 Bob using binocular scope for chiseling class.