2008 Courses Offered:
3-Day Classes

Drawing and Design for the Longrifle —Gary Brumfield
(3-day class, $330, no materials fee)
This will be a hands-on drawing class with the goal of helping all the students, even those who say they can not draw, improve their design work. This class will focus on learning to create Baroque and Rococo designs like those typically found in longrifle decoration. The class will not be school specific, but general in the study and drawing of eighteenth-century designs for carving, engraving, and patch boxes. This class will provide excellent preparation for those taking the engraving or carving class. Class size will be limited to 16.
Materials: Bring a notebook, sketchbook, several pencils, and a good eraser.

Filing and Polishing Techniques— Mark Silver
(3-day class, $330)
New for 2008! Participants will bring a lock and/or a set of cast mounts to file up and polish. The lock would offer the best possibilities and could even be a used lock from a rifle they currently own. This class would present the opportunity to discuss and learn proficient/workmanlike technique, finishes and period correct detail.
Class size will be limited to eight. Materials fee: Approximately $20

A Revised History of the American Longrifle—Alan Gutchess
(3-day class, $330, no materials fee) DID NOT FILL
New for 2008! Even a quick glance at most current literature and the internet reveals that the generally accepted history of the origin and development of the American longrifle or Kentucky rifle, is still rooted deeply in research and popular mythology that is more than a half century old. In this class, Alan will present both the popular myths and current research that challenges the old beliefs.
Class size will be limited to 16.


6-Day Classes

Engraving — Beginning and Intermediate — Mark Silver
(6-day class, $660 plus materials)
This course is meant for the student with little or no engraving experience who wants to improve their understanding of and ability to execute, the styles of engraving used on American longrifles and fowlers. It is also for those who have already had at least one course in engraving and wish to work with British or continental styles.
The class will explore the elements used on patchboxes, side plates and mounts, including types of borders, scrolls, volutes, and leafage. Most of the class time will be spent in intensive practice repeating the basic elements of these types of engraving. Intermediate students will be introduced to and practice lettering of various styles, and the engraving forms found on sporting arms from Britain and Europe, including, if they wish, relief chiseling of sculpted foliage and borders. Class size limited to eight.

Relief Carving —Gary Brumfield
(6-day class, $660 plus materials)
Learn to carve by working on a machine shaped longrifle butt stock that will go home with you as study piece and reference. (Because the students will be experimenting with various tools and methods, they will not work on an actual rifle.) Pick any style of relief carving. Topics covered will include selecting and sharpening tools, various methods of backgrounding and sculpting, etc. Although beginners are welcome, this class in traditional carving techniques best serves those who have some experience in wood working. Class limited to eight.
Material fee: Approximately $100 which includes practice stock.

9-Day Classes

Decorating the Christian's Spring Rifle — Jack Brooks
(9-day class, $990 plus materials) DID NOT FILL
New for 2008! This class will study the 1775 Christian Oerter that recently surfaced in the collecting world (May 2007) and which was featured in the October 2007 issue of Muzzle Blasts Magazine. Jack has a large amount of information (photos, dimensions, and drawings) pertaining to this important longrifle. This past summer he made a documentary copy of this rifle and it was a great learning experience that he will share with his students. Students would receive a Quaker stock (no barrel or lock) cut from a stock pattern duplicating the Oerter rifle architecture. Jack will teach them to do wire inlay, sheet silver inlay (thumb piece and cheek piece star), relief and incise carving (griffin carved behind the cheek rest), and bone inlay (beak and claws of griffin) by copying the original designs on the Oerter rifle.
Material fee: Approximately $125.

Finish What You Started — Bob Elka & Joe Valentin
(9-day class, $990 plus materials)
This class provides former seminar students with the opportunity to have Bob and Joe help them complete, or at least make a lot of progress toward completing, any longrifle, fowler, Jaeger or pistol that they started in any previous class here at the NMLRA Gunsmithing Seminar. We know there are projects out there collecting dust. Now there is no excuse! Class limited to eight.
Materials fee: None.

Period Architecture and Stock Shaping — Wallace Gusler
(9-day class, $990 plus materials)
New format for 2008! One of the most difficult features of an early longrifle to capture is the architecture. Starting with a stock blank and pre-inlet tapered and flared barrel, and using either the original Moravian rifle number 42 from George Shumway's Rifles of Colonial America, Volume I or the early George Shroyer number 92 in RCA, Volume II as a prototype, students will learn both the techniques of stock shaping and the subtle characteristics of early rifle architecture that are so hard to see in photographs.
Materials will include a barrel, custom made by Ed Rayl to the dimensions of the original, a maple blank, and castings of the butt piece and guard based on the originals. Class limited to eight.
Materials fee: Approximately $450-$550 depending on wood selected.

Stocking an 18th-century Germanic Rifle — Ronald Scott
(9-day class $990 plus materials)
New for 2008! Beginning with a European Walnut blank (with pre-inlet swamped barrel) the class goal is to inlet the major parts and shape the stock using original rifles and prints as study models. Discussion and demonstration of butt trap inlets, horn muzzle caps, carving, engraving and European finishing methods are intended topics. A spiral bound class outline book is included. Ron will be available by phone and email for post class mentoring as this is a complex subject. Students are encouraged to have some previous woodworking experience. Class limited to eight.
Materials fee: Approximately $840

Stocking an English Fowling Piece — Jim Chambers
(9 day class $990 plus materials) DID NOT FILL
New for 2008! Starting with an English walnut stock blank pre-inlet for a round barrel, we will shape the gun to resemble an original fowler made by William Bennett in London and dated 1762. English architecture is more refined and more difficult to achieve than that found on American pieces. Having the original as a study piece will be invaluable as we shape the stock. Class limited to eight.
Materials fee: Approximately $650 to $700

Stocking an Iron Mounted Rifle — Hershel and John House
This class was not offered in 2008. Both instructors felt they needed a break.

top

Meet the 2008 Instructors:

Jack Brooks has been a full-time gun maker since 1976, dividing his time between new custom work and the restoration of antique American longrifles. A resident of Englewood, CO, this will be Jack's fifteenth year as an instructor at the seminar where he has taught a variety of stocking classes from long rifles to pistols and trade guns.

Gary Brumfield started in the Colonial Williamsburg Gunsmith shop as a summer helper in 1965 and was master gunsmith for Foundation from 1974 to 1990. He continues at the foundation in a management position and works part time as a rifle maker in his home shop. He has been either an instructor or the seminar coordinator since 1983.

Jim Chambers, Jr. has been involved with custom arms for forty years and has become a very important contributor to the trade by supplying a variety of high quality locks. A resident of Candler, NC, Jim has taught at the seminar for several years in either carving, stocking, or lock assembly.

Bob Elka and Joe Valentin stepped up last June to teach the Powder Horn and Flask class originally offered by Ron Ehlert, who passed away in January. Their many years of diverse gun building experience and outstanding dedication to the Seminar resulted in an outstanding class highly praised by those attending. Bob and Joe have agreed to provide former seminar students with the opportunity to complete unfinished class projects during the 2008 session.

Wallace Gusler produced his first muzzleloader at age fourteen. He established the Colonial Williamsburg gunsmith shop in 1963 and was master until 1972. Retired from the gun shop, Wallace is currently completing a book on Virginia gunsmiths and building rifles part-time. He has taught at this seminar many times since helping start it in 1981.

Alan Gutchess is the son of Gerald (Gerry) Gutchess. Alan began gunsmithing with his father as a teen and joined the Kentucky Rifle Association in 1982. He apprenticed in the Colonial Williamsburg Gun Shop for a few years in the late 1980s. Today Alan is known for his research into the material culture of the Eastern American Indians and as the sponsor for over a decade of the Eastern American Indian Conference. He has recently directed several instructional videos for R.E. Davis Co. including those on engraving and carving by Jack Brooks.

Ronald Scott built his first flintlock in 1975, shortly after graduating from Oregon State University, and has pursued the art and craft professionally since 1978. In 1991, he founded the Oregon Gunmakers Fair in Philomath Oregon, an annual event dedicated to promulgating flintlock building skills
through demonstration and exhibition. From a modest beginning, the Fair
has grown to 50 participants and the quality and sophistication of the
firearms has increased steadily to a level of high excellence.

Mark Silver started as a hobbyist in 1972, became a full-time gunmaker in 1976, and trained with John Bivins in 1978-9. Mark is a resident of Chassell, MI and has taught at this seminar since 1983 on subjects ranging from engraving and carving to lock assembly.
top
MORE PHOTOS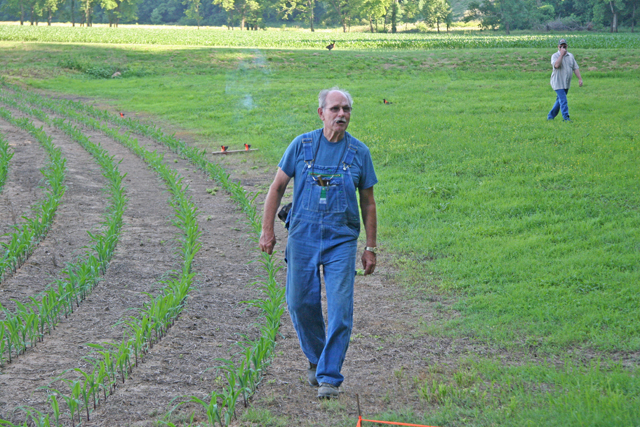 Jack returning to the firing line after setting up targets.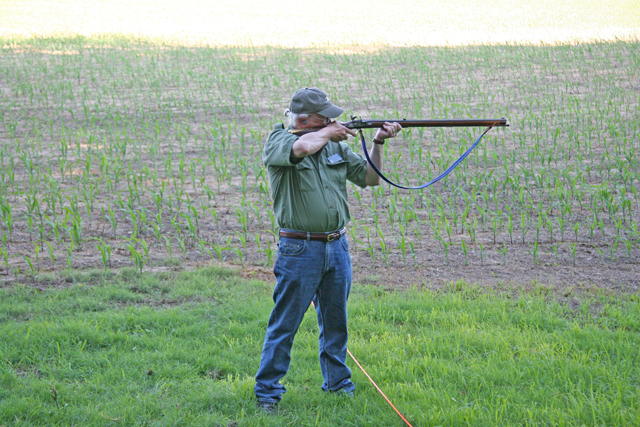 Mark lines up a shot.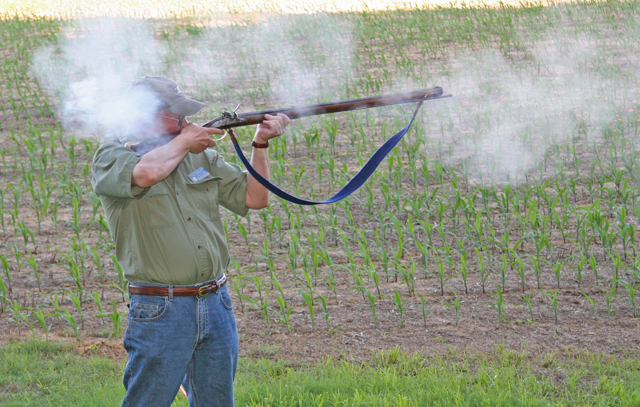 A bit of recoil shows in the upward tilt of the muzzle.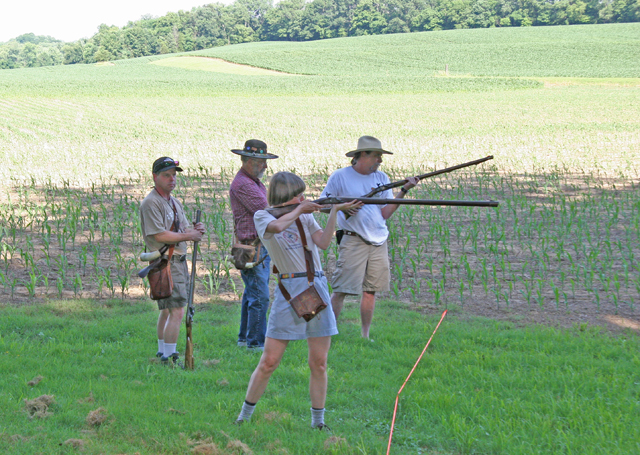 Vickie ready to fire the iron mounted rifle she started at the seminar.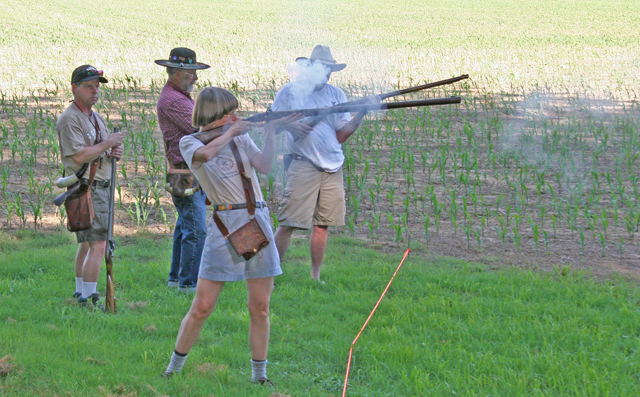 Even a squirrel rifle has some recoil when the shooter weighs ...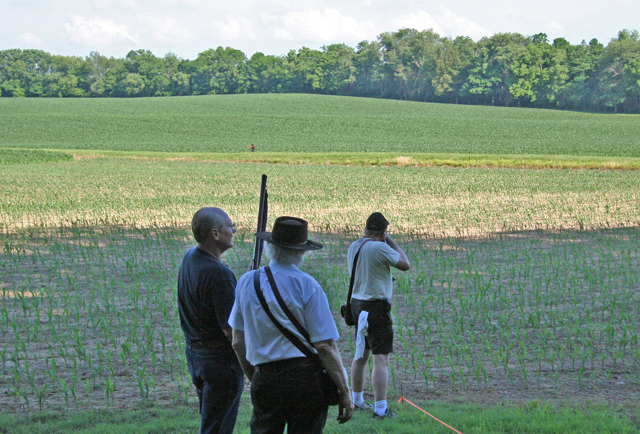 The 3' bear out past 100 yards proved a much more difficult target for most.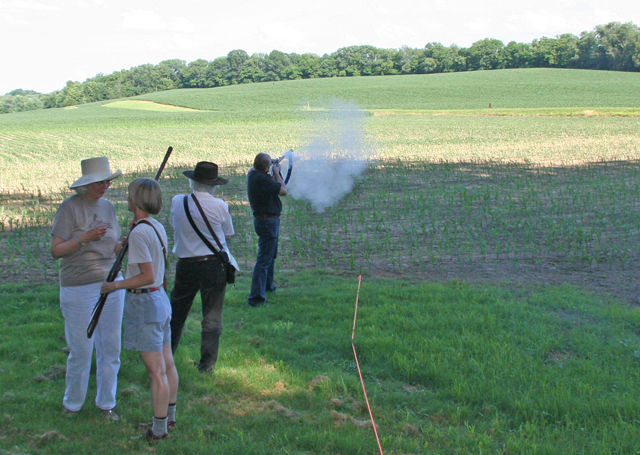 Hanks tries the bear while Joe watches and Beverly and Vickie congratulate each other on their fine shooting.
This picture gives some idea of the size of the corn field!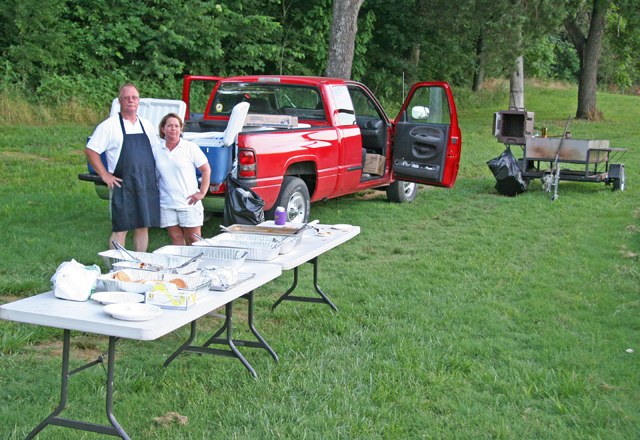 Here are the Duvalls, who have feed the seminar crowd well for many years.
top
Relief Carving Class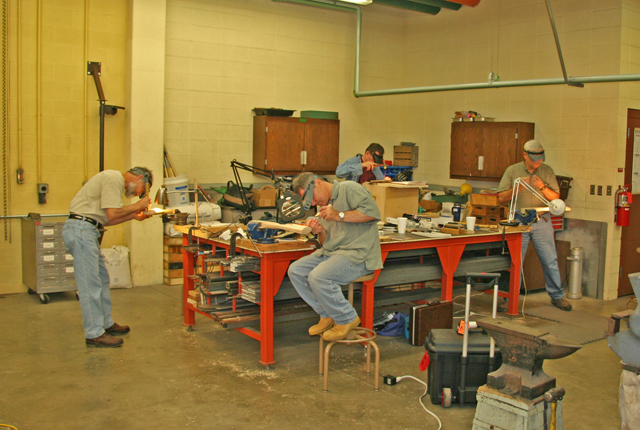 Randy, Alex, Steve, and Bob shared one big table in a corner of the basement welding lab. No worry about the table shaking--all the stuff stacked underneath is steel.
What would we do without OptiVisors?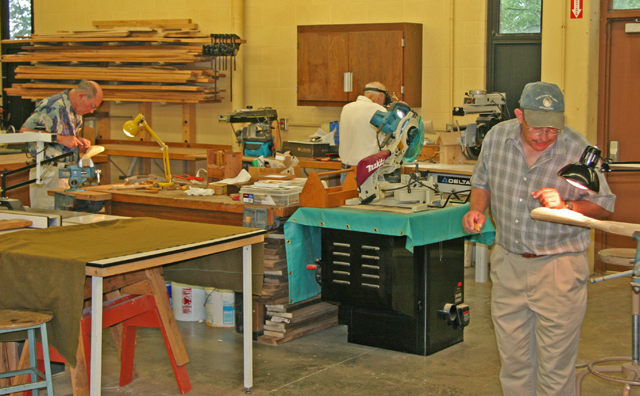 Glenn, Mike, and Dick were a bit more spread out.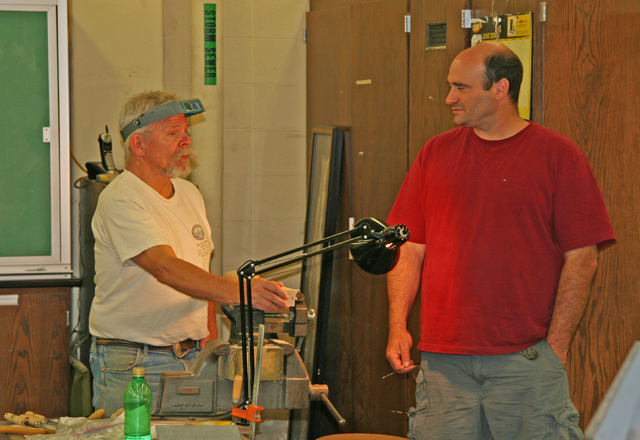 Dave and Mitch take a rare break.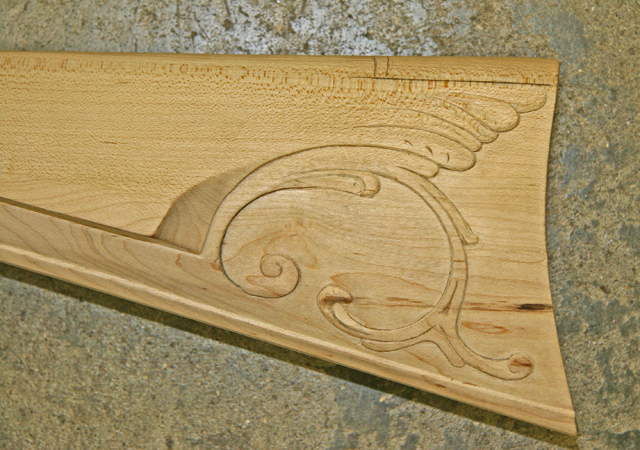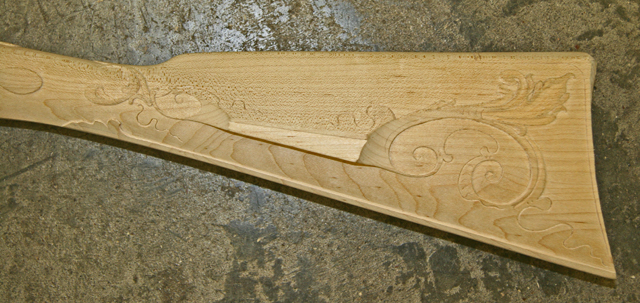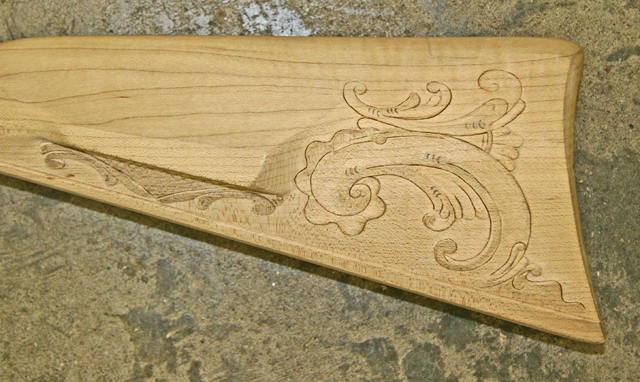 The other six Quaker stocks got packed up before I could get a picture of them.
top
More Class Photos As I Get Them!